Healthy Chicken Fajita Meal Prep Bowl – Calories: 592
Yield: 2, Prep time: 10 minutes, Cook time: 20 minutes, Total time: 30 minutes;
Per Serving: Calories: 592; Fats: 32g; Protein: 59g; Carbs: 23g; Fiber: 6g .
Ingredients:

4 skinless chicken thighs
2 tsp lemon juice
1 red bell pepper
1 yellow bell pepper
1 green bell pepper
1 large onion
2 tbsp olive oil
2 cloves of garlic, crushed
4 cups Brussel sprouts, fresh or frozen

Seasoning:

2 tsp chilli powder
1 tsp paprika
1/2 tsp cumin powder • black pepper and salt

Instructions:

Mix chili powder, red pepper, cumin, a dash black pepper, and salt, and set aside.
Cut chicken thighs into thin strips. Then, add half of the seasoning, garlic, lemon juice and a dash of salt to them.
Heat olive oil in a pan and add chicken strips. Cook for 10 minutes or until fully cooked.
Now, remove the chicken, add sliced onions and bell peppers, and the rest of the seasoning. Stir fry for 5-minutes.
Meanwhile, preheat oven to 390 degrees F (200 degrees C).
Place Brussel sprouts in a single layer on the baking sheet, spray with olive oil, season with salt and black pepper.
Bake for 20 minutes.
Source: https://allnutritious.com/chicken-fajita-meal-prep-bowl/
Healthy Shrimp – Calories: 345
Yield: 4, Prep Time 10 mins; Cook Time 30 mins, Total Time 40 mins
Per Serving: Calories: 345, Fats: 6g, Protein: 29g, Carbs: 27g, Fiber: 4g, Sugar: 2g .
Ingredients:
For The Honey Garlic Shrimp

2 tbsp low sodium soy sauce • 1 tsp raw honey
3 cloves garlic, minced
1 tsp fresh ginger, minced
1/2 tsp crushed red pepper flakes
1 tsp rice vinegar
1 lb large shrimp, peeled & deveined • 1/2 tsp olive oil

For the Lemon Sugar Snap Peas:

1 tbsp olive oil
1 lb fresh sugar snap peas
1 tsp lemon zest freshly grated • 1/2 tsp sea salt
1/4 tsp ground black pepper

For the Instant Pot Brown Rice:

2 cups brown rice, uncooked
2 1/2 cups water

Instructions:

We're going to start with our brown rice since that takes the longest to prepare. You can always steam rice in a covered pot on the stove, but I like using my Instant Pot to make rice because I can get it started and then just forget about it.

To make the rice, add your uncooked brown rice to the Instant Pot. Pour in water, and stir to combine. Then, seal the lid and select the RICE option on high pressure.

The Instant Pot is going to start its magic and will eventually seal itself once it builds up enough pressure. When it?s done, carefully remove the lid and fluff the brown rice with a fork. Then, allow the rice to cool.

Alternatively, you can add the rice to a deep pot and heat to a simmer over medium heat. Then, cook for 25-30 minutes, or until rice fully absorbs the water.

While rice is cooking, we can prep our honey garlic meal prep shrimp and our lemon snap peas.

To make the shrimp, start by making the sauce. So add raw honey, low sodium soy sauce, minced garlic, minced fresh ginger, crushed red pepper flakes, and rice vinegar to a mixing bowl and whisk until combined. Then set this sauce aside for a sec.

Heat some olive oil in a large skillet over medium-high heat.

Place shrimp in the skillet. Cook the shrimp until pink on both sides, about 2-3 minutes.

Pour in the sauce and cook until the shrimp is fully cooked and the sauce is heated through, about 2-3 minutes. Then, set this aside to cool.

To make the lemon snap peas, heat olive oil in a skillet over medium-high heat.

Add the fresh sugar snap peas and toss to coat. Cook snap peas over medium-high heat for 2 minutes, stirring frequently.

Add the lemon zest, sea salt, and ground black pepper, and cook an additional 3-5 minutes, until the snap peas begin to puff up and are crisp, yet tender.

Divide the steamed rice into 4 equal portions in your meal prep containers. Add the lemon snap peas to the opposite side of the containers. Then, top the rice with our honey garlic shrimp and the rest of the sauce. Seal the lids tightly and store this meal prepped shrimp in fridge for up to 4 days
Source: https://www.asweetpeachef.com/shrimp-meal-prep/
Teriyaki chicken meatballs – Calories: 595
Yield: 3
Per Serving: Calories: 595, Fats: 15.2g, Protein: 42.2g, Carbs: 71.6g, Fiber: 4.9g
Ingredients:
For the meatballs:

1 lb ground chicken
1 tsp garlic powder 1
tsp ground ginger
1/2 tsp sea salt
1/4 tsp black pepper
2 tsp coconut flour (exclude!)
1 tbsp coconut oil (exclude!)
2 tbsp green onion, chopped

For the vegetables:

1 tbsp coconut oil (exclude!)
2 1/2 cup cauliflower rice (pre-riced or using a food processor)
2 cups broccoli florets
1/2 tsp sea salt, divided
2 tsp coconut aminos (exclude!)

For the sauce:

1/2 cup coconut aminos (exclude!)
2 tsp honey
2 tbsp fresh orange juice
1 tsp arrowroot starch
1/2 tsp sea salt
1/4 tsp ginger powder
1/2 tsp garlic powder
1/4 tsp black pepper Instructions:

For the meatballs:

Preheat the oven to 375 F and line a baking sheet with parchment paper.

Combine all of the meatball ingredients in a large mixing bowl (reserving the green onion), and mix well.

Roll the mixture into meatballs (you should have about 15-18) and place on the baking sheet.

Bake in the oven for 20-25 minutes or until the internal temperature of the meatballs reaches 165 F.

Once cooked, remove the meatballs from the oven and allow to cool slightly.

Toss the meatballs in the teriyaki sauce (see below) until evenly coated (reserving about 2 tbsp for the vegetables and serving on the side).

For the vegetables:

Melt 1 tbsp coconut oil in a large, deep frying pan on medium heat. Saute the cauliflower rice with salt and coconut amino for 8-10 minutes or until cooked through and lightly crisped. Set aside.

Using the same pan, bring about 1/4 inch of water to a simmer in the pan. Lightly salt the water and add the broccoli to the pan and cover with a lid to steam the broccoli for 8-10 minutes or until the broccoli is tender. Remove any excess water and set the broccoli aside. For the sauce:

Combine all of the ingredients (reserving the arrowroot) in a small saucepan and set on the stove on medium heat. Whisk in the arrowroot simmer on low for 3-4 minutes until the sauce thickens. Set the sauce aside.

Use 3-4 glass containers to layer in the cauliflower rice, broccoli, and about 4-6 meatballs per container. Top the vegetables with the remainder of the sauce, or serve the sauce on the side, and add the chopped green onion on top of the meatballs. Store in the fridge for about 3 days and enjoy for lunch or dinner!
Source: https://unboundwellness.com/teriyaki-chicken-meatball-meal-prep/
Super Easy Beef Stir Fry – Calories: 408
Yield: 2-3 servings
Per Serving: Calories: 408, Fats: 18.9g, Protein: 43.2g, Carbs: 12.8g, Fiber: 1.5g, Sugar: 1.8g .
Ingredients:
1 lb flank steak or sirloin cut into bite-sized pieces
1 Tbsp avocado oil, or olive oil
sea salt and fresh ground black pepper, to taste
2 cups fresh broccoli, chopped
crisp carrots peeled, and thinly sliced
Homemade Stir-Fry Sauce:
1/4 cup Bragg?s liquid aminos, low sodium soy sauce, OR coconut aminos(my favorite is the coconut aminos)
1 Tbsp raw honey
2 cloves fresh garlic, grated
1in fresh nob ginger, peeled and grated
1 tsp chili flakes (optional)
1 Tbsp sesame seeds
Instructions:
In a small bowl, whisk together all sauce ingredients.
Heat oil in a large skillet or wok over medium-high heat. Add in the meat then cook, stirring occasionally until cooked through, about 5-6 minutes.
Stir in the veggies and cook for 3-4 minutes more.
Pour your sauce over top and stir to coat the meat and veggies.
Serve immediately over brown rice, cauliflower rice, or quinoa. OR
Keep refrigerated in airtight containers for up to 4-5 days or freeze for up to 2 months.
Source: https://cleanfoodcrush.com/super-easy-beef-stir-clean-eating/
Chicken Buddha Bowl Meal Prep – Calories: 348
Yield: 4
Per serving: 348 Calories, 32g Protein, 34g Carbs, 5g Fat .
Ingredients:
1 cup Jasmine Rice (or 2 cups cooked)
16 ounces Chicken Breast
8 cups chopped mixed vegetables ie, red onion, summer squash, zucchini, bell pepper, broccoli, cauliflower, etc)
1 tbs avocado oil
Sea Salt
black pepper
1 tsp all-purpose seasoning
fresh squeezed lemon juice
Instructions:
Prepare jasmine rice in advance by cooking according to package instructions. Refrigerate until ready for use. Preheat oven to 400 and line a baking dish with aluminum foil.
Add chicken breast to the center of the pan and arrange veggies surrounding the chicken. Drizzle with avocado oil and season with salt, pepper, and all-purpose seasoning.
Bake for 20 minutes, then remove from the oven. If the vegetables need more time, remove the chicken and continue cooking veggies for an additional 5-10 minutes, depending on what vegetables you chose.
Slice chicken into long strips.
To assemble, add 1/2 cup jasmine rice to each meal prep container and top with baked chicken and sheet pan veggies. Add a slice of lemon for serving. Keeps in the fridge for 4-5 days.
Source: https://mealpreponfleek.com/chicken-buddha-bowl/
Asian Peanut Butter Sesame Chicken - Calories: 48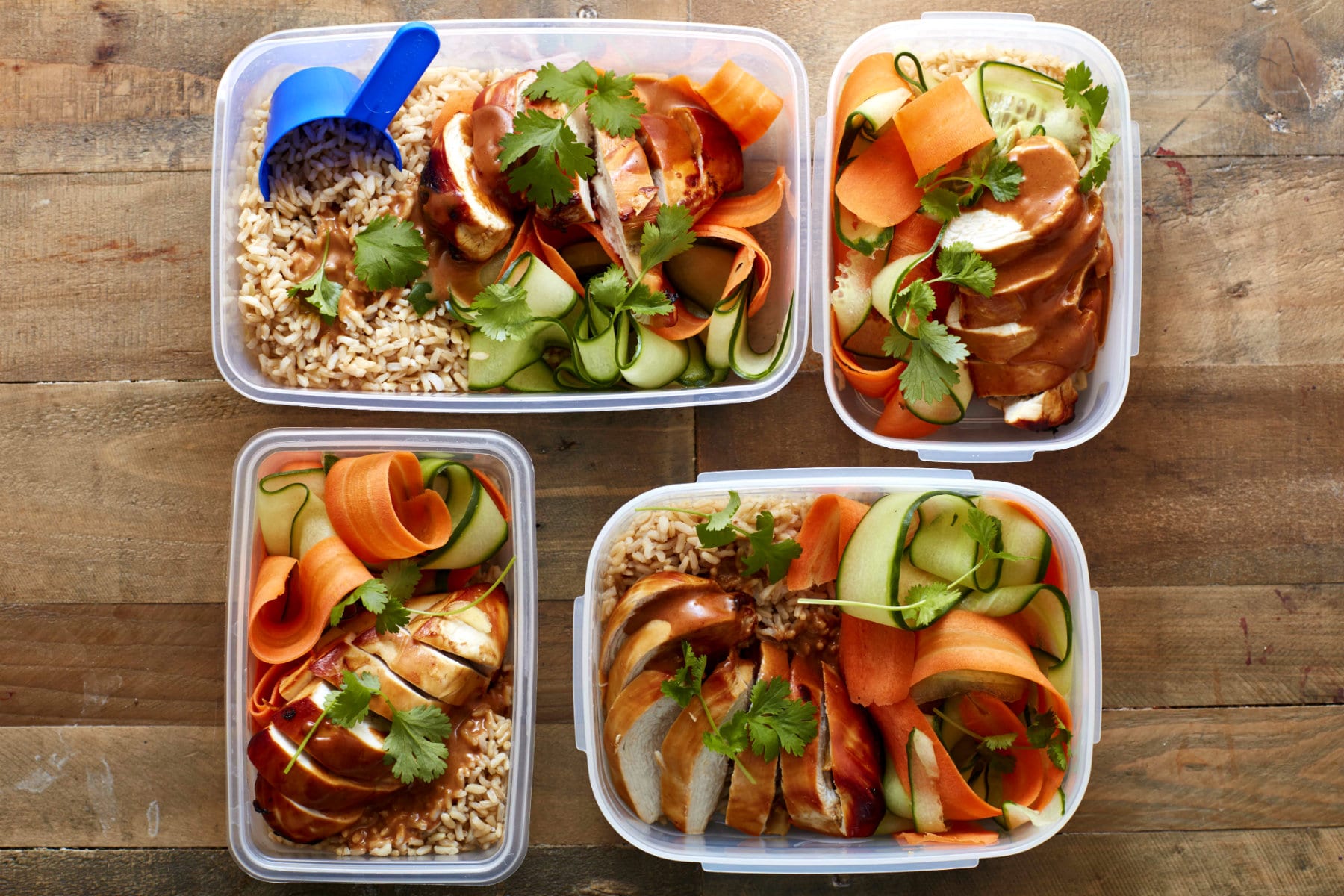 Yield: 4
Per serving: Calories: 489, Protein: 40g, Fat: 20g, Carbs: 39g .
Ingredients:
For the chicken:

5 tbsp. Peanut Butter
50ml orange juice
3 tbsp. Sugar-Free Syrup (Maple Flavour)
3 tbsp. soy sauce
1 thumb ginger (grated)
3 chicken breasts

For the salad:

2 cucumbers (spiralised or thinly sliced)
2 carrots (spiralised or thinly sliced)

Salad dressing:

2 tbsp. Sugar-Free Syrup (Maple Flavour) or Maple Syrup
4 tbsp. soy sauce
2 tbsp. sesame oil (if you don't have this, substitute for your preferred oil or go without to reduce fat content)

Serve with:

30g (dry weight) brown/basmati rice per meal
Instructions:
Preheat the oven to 200°C or 180°C for fan-assisted.

Whisk peanut butter, 100ml hot water and orange juice together until smooth then add the syrup, soy sauce and ginger. Set aside.

Season and sear the chicken breasts by frying on a high heat using a non-stick pan for 3 minutes on each side, then transfer to a casserole dish and thoroughly coat the chicken with the peanut butter sauce.

Bake for 20 minutes.

Whilst waiting, make the salad dressing by whisking the syrup, soy, sesame oil and seeds together, then combine with the spiralised cucumber and carrots.

Once the chicken is cooked, place into meal prep boxes and serve with the salad and brown rice. Three days lunch prep sorted.
Source: https://www.myprotein.com/thezone/recipe/easy-meal-prep-idea-asian-peanut-butter-sesame-chicken/
Honey-Spiced Salmon with Quinoa - Calories: 465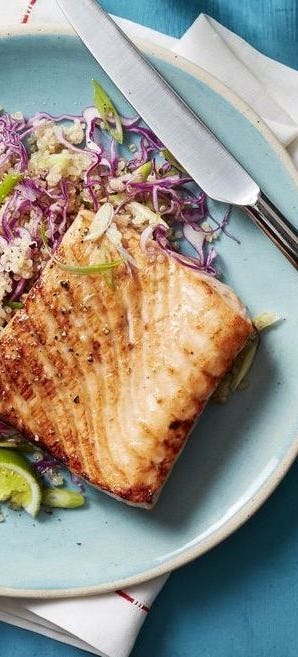 Yield: 4
Per serving: 465 calories, 41 g protein, 38 g carb, 5 g fiber, 6 g sugars (6 g added sugars), 16 g fat (2 g sat fat), 66 mg cholesterol, 460 mg sodium .
Ingredients:
1 c. quinoa
2 limes, plus extra wedges for serving
2 tbsp. oil
1 tbsp. freshly grated ginger
1 tbsp. plus 1 tsp. honey
Kosher salt and pepper
2 scallions, thinly sliced (dark green parts separated)
12 oz. red cabbage, cored and finely shredded
1 1/2 lb. skinless salmon fillet, cut into 4 pieces
1/2 tsp. cayenne
Instructions:
Heat a medium saucepan on medium, add quinoa, and cook, shaking pan occasionally, until lightly toasted, 5 minutes. Add 2 cups water and immediately cover (it will sputter). Simmer gently 10 minutes. Remove from heat, remove lid, cover with a clean towel, and let stand 10 minutes; fluff with a fork.
Meanwhile, finely grate zest of 1 lime into a large bowl, then squeeze in juice (you'll need 3 Tbsp total). Whisk in oil, ginger, 1 tsp honey, and 1⁄4 tsp each salt and pepper. Stir in white and light green parts of scallions, then toss with cabbage.

Heat the broiler. Place salmon on a nonstick foil-lined rimmed baking sheet and season with cayenne and 1⁄2 tsp salt. Drizzle with remaining Tbsp honey and broil until opaque throughout and browned on top, 5 to 7 minutes.
Fold cooked quinoa into cabbage mixture, then sprinkle with reserved scallions. Serve with salmon, and lime wedges if desired.
Source: https://www.prevention.com/food-nutrition/recipes/a23087868/honey-spiced-salmon-recipe/
Jalapeno Sliders With Sweet Potato Bun - Calories: 483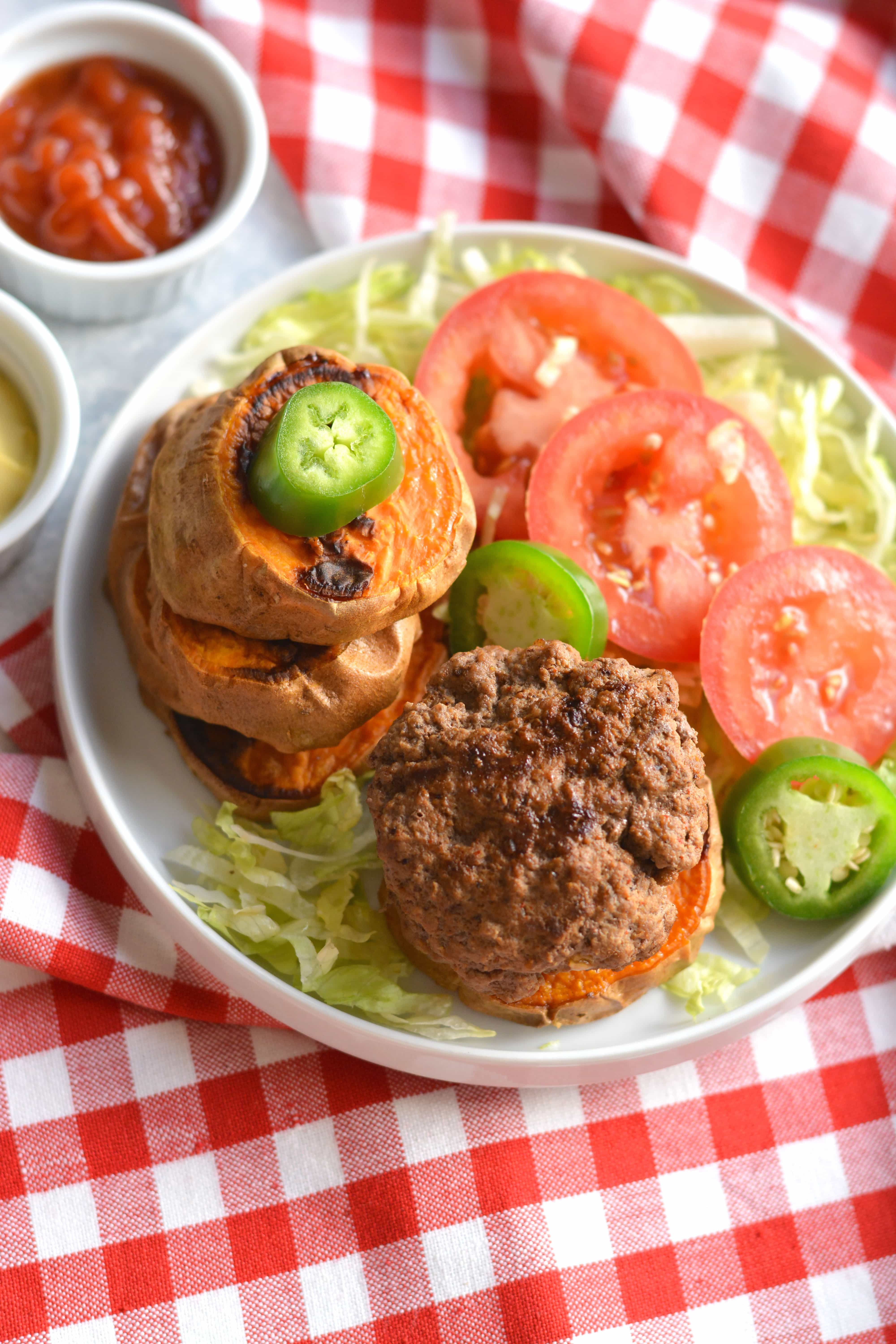 Yield: 2
Per serving: Per serving: Calories: 483, Carbohydrates: 21g, Protein: 48g, Fat: 23g .
Ingredients:
1 large cooked sweet potato (about 200g)
1 pound 93% lean ground beef
1 small Jalapeno finely diced
1/2 tsp. Garlic Powder
1/2 tsp. cumin
1 tbsp. olive oil
salt & pepper to taste
sides as desired
Instructions:
Preheat oven to 425 F. Prepare the sweet potato by washing the outside well then slice horizontally into thick slices.
Place the sweet potato on a medium baking sheet. Drizzle with extra virgin olive oil and sprinkle with salt and pepper.
Place in the oven and bake at 425 F for 20 minutes.
While the sweet potato is baking, heat a grill or grill pan to medium heat.
Place the ground beef in a large bowl with jalapeno, cumin and garlic powder. Using your hands, break up the meat and mix the ingredients together.
Form the mixture into 4 patties.
Place on the grill and cook 4 minutes then flip and cook another 4 minutes for a medium-well slider.
Remove the sweet potatoes from the oven and sliders from the grill.
Transfer to 2 meal prep containers and place 2 burgers in each one along with roasted sweet potato "buns" and your desired sides!
Source: https://mealpreponfleek.com/jalapeno-sliders-sweet-potato-bun-meal-prep/
Beef Patties-Sweet Corn Rice and Sautéed Veggies - Calories: 297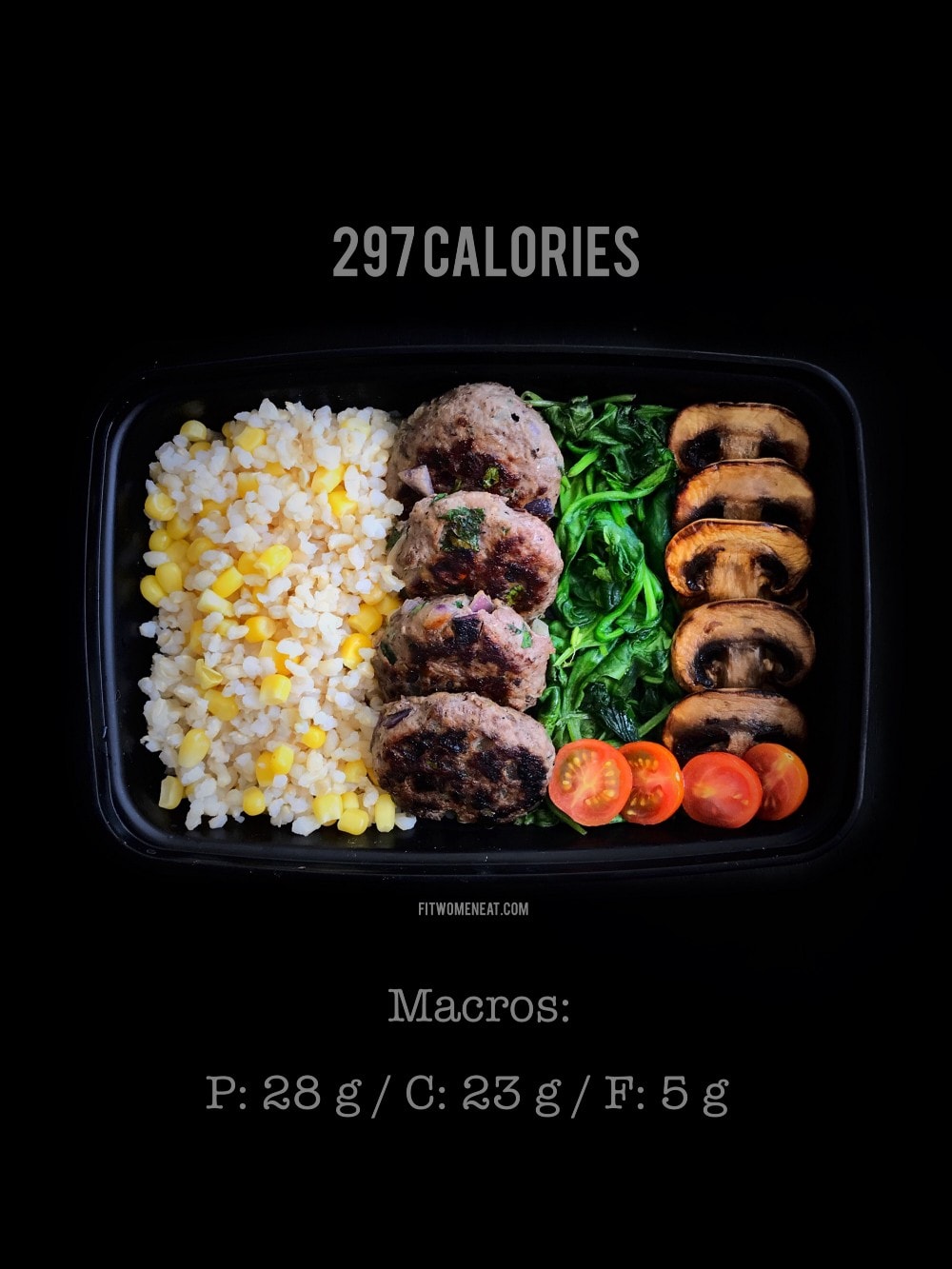 Yield: 4
Calories: 297kcal, Carbohydrates: 23g, Protein: 28g, Fat: 5g.
Ingredients:
Beef Patties
600g lean ground beef (98%) - also works with ground turkey or chicken
1 cup onion chopped
2 cloves garlic minced
1 handful parsley
1/2 tsp. Salt
1 tsp. cumin
1tbs Worcestershire sauce (optional)
Rice
2 cups Brown Rice cooked
1/4 cup sweet corn frozen/canned
Veggies
5 medium mushrooms
4 handfuls spincach
10 cherry tomatoes
Coconut Oil
Instructions:
In a large bowl combine ground beef, chopped red onions, grated garlic cloves, chopped parsley and all seasonings. Mix with a spatula. Scoop evenly small patties with a measurement scoop/cup/spoon.
Preheat a non-stick pan (no oil needed) cook patties over medium heat 5 minutes per side. Set aside.
In a non stick pan heat cooked rice with corn about 5 minutes.
Preheat about 1 tsp coconut oil in a pan. Slice mushrooms and toss in the pan. Cook until both sides are brown (You can use the same pan you used for patties, make sure to wipe it). Set aside.
Melt 1 more tsp coconut oil for baby spinach. After the coconut oil is melted, toss baby spinach in the pan and turn the heat off. Salt to taste if you like. It should be just slightly warmed.
Source: https://mealpreponfleek.com/beef-patties-sweet-corn-rice-sauteed-veggies/
Chicken Pad Thai - Calories: XX
Yield: 4
Fill when cooking first.
Ingredients:
Chicken
3 Spiralized zucchinis
1 bag shredded carrots
cilantro for flavoring
1/2 C chopped dry unsalted peanuts
Sauce
1/4 Creamy peanut butter
2 tbsp coconut liquid Aminos
2 tbsp sugar free syrup
1.5 tsp rice vinegar
1 tsp grated ginger or squeeze ginger
1 tsp minced garlic
1 tsp roasted sesame oil
Instructions:
Cook chicken as desired and set aside. Then proceed to making zoodles and sauce while chicken is cooking by heating 2 tsp olive oil in a large wok or pan.
Add zucchini to the wok and cook until producing water but not soft. Drain zucchini
Add carrots to hot pan and pour zucchini noodles on top.
Combine all sauce ingredients in a small bowl and mix until all lumps are gone.
Plate zoodles and desired amount of chicken onto plate and drizzle desired sauce on top.
Sprinkle with peanuts and enjoy!
Burger Bowl - Calories: XX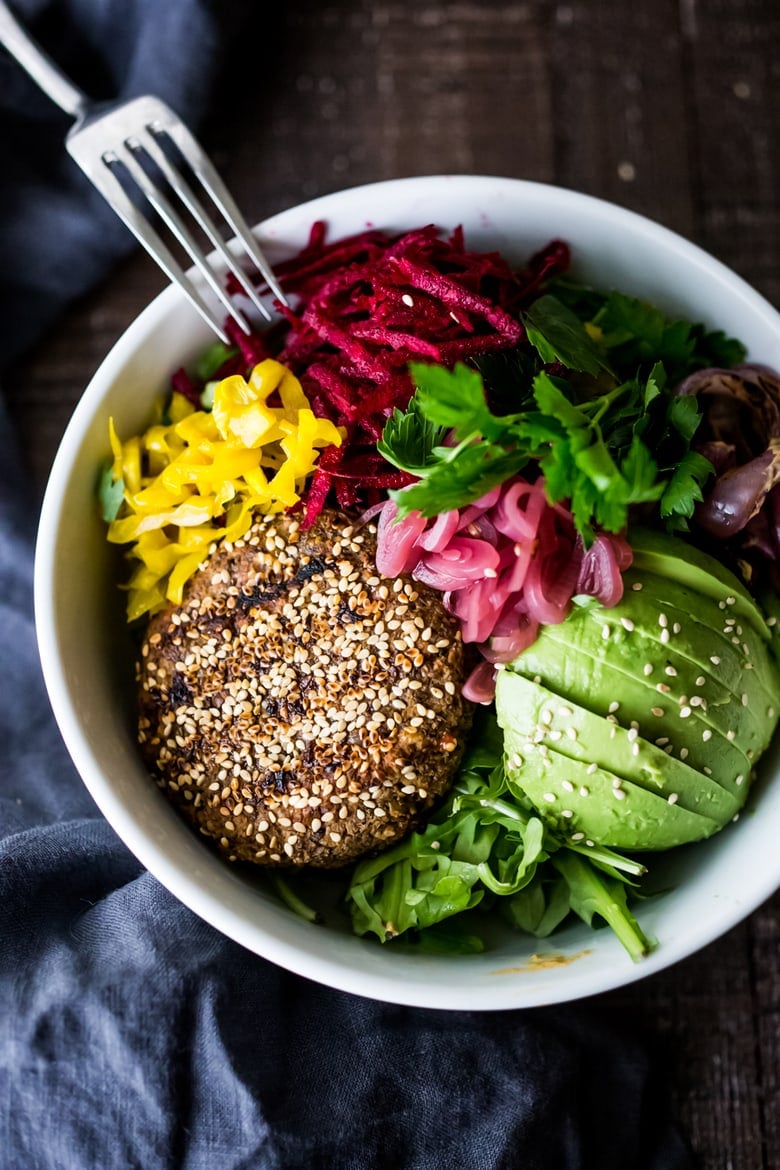 Yield: 4
Fill when first cooking this.
Ingredients:
Lean Ground Beef (or your choice or beef-less ground or protein)
Brown rice
Lite shredded cheese
spinach and diced tomatoes
ketchup and mustard
pickles
Instructions:
Cook your protein until done as well as your rice.
Place the brown rice on the bottom of the bowl, then layer beef, cheese, spinach, tomatoes, pickles, ketchup, and mustard and any additional toppings you desire for your burger! Enjoy!
Title - Calories: XX
Yield: 4
**.
Ingredients:
Instructions:
Title - Calories: XX
Yield: 4
**.
Ingredients:
Instructions:
Title - Calories: XX
Yield: 4
**.
Ingredients:
Instructions:
Title - Calories: XX
Yield: 4
**.
Ingredients:
Instructions: